33 Keto-Friendly Desserts Recipes Everyone Can Enjoy
Are you looking for dessert recipes but with a ketogenic diet? Just because you're on the ketogenic diet doesn't mean you need to sit out desserts on a holiday gathering. No doubt you are at the right place to know about keto-friendly dessert recipes. You will find plenty of keto dessert recipe ideas here without any deprivation.
While traditionally prepared desserts will kick you right out of ketosis, these keto-friendly desserts can be enjoyed without worry or guilt. Plus, they taste so good, even those who aren't on the keto diet won't mind eating them!
Keto-friendly Pumpkin Cheesecake Mousse
We were in love with the very mention of "pumpkin" and "cheesecake" in one sentence. Cream cheese and heavy cream boost the fat content and make this a rich choice.
The sweet fall flavor of pumpkin is a match with creamy cheesecake that you can indulge in without ruining your diet.
Fudgy Pumpkin Brownies
How about pumpkin and chocolate? These rich and fudgy brownies have that pumpkin spice and a heavenly sweetness without any sugar. The gooey texture will steal your heart away!
Crustless Pumpkin Pie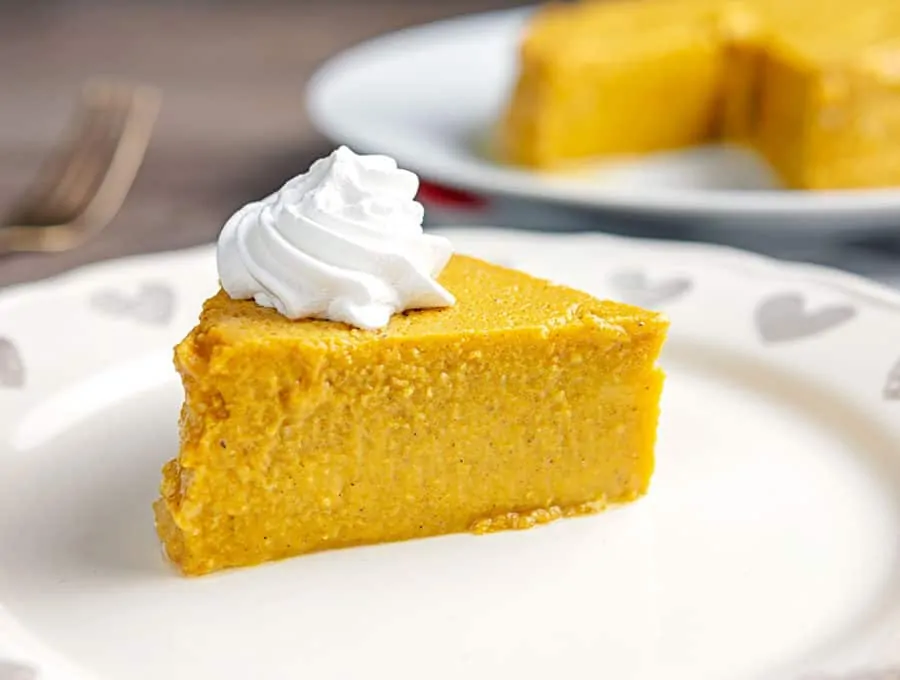 You won't miss pumpkin pie with this pudding that takes the best part of the pie (the filling) and leaves behind the crust. It's also something you can make in your Instant Pot to save time, another win for this keto friendly dessert!
Keto Pecan Pie Tarts
Don't let keto dietary restrictions ruin your Christmas dessert spread. Just change the way you think about them and all will be well.
These keto pecan pie tarts prove it with that timeless pecan pie flavor and none of the ingredients that will ruin your diet. Made with coconut flour and almond flour, you'll be in the right carb zone.
Keto Chocolate Silk Pie
If it's the pie you crave, then nothing can compare to a keto friendly desserts' crust made with almond flour and other keto-compliant ingredients. Loaded with a silky, rich, and chocolaty filling, you'll wonder where this has been your whole life.
Low Carb Apple Fritters
Make use of that apple harvest bounty with apple fritters made in a low-carb way to keep you in ketosis. Chunks of apple sweetened just right with keto-friendly sweeteners burst forth from these coconut flour and almond flour-based pastries.
Keto Dessert Bark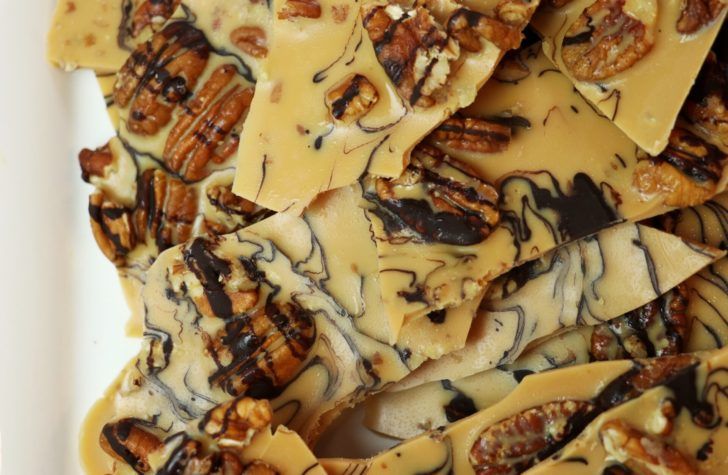 What are the fall holidays without any bark? This keto-compliant bark has plenty of bites so you can indulge in a fully guilt-free way.
Plentiful in healthy fats with coconut oil and peanut butter, you'll love this dark chocolate treat. What's more, you can keep it in your fridge to snack on throughout the holidays or give it as a gift in pretty tins for your fellow keto dieters!
Keto Fluffy Chocolate Mousse
We are obsessed with these fluffy, chocolate words that together make the mouths melt with their sweet sense. It is a mouth-watering quick keto-friendly dessert that will bring happiness to your face.
This low-carb dessert has a seductive effect with its fluffy, dreamy appearance and taste. It is an easy dessert recipe that abandons the people with some moments of enjoyment and peace with its fluffy texture.
Keto Cheddar Bay Biscuits
This quick keto-friendly dessert with low-carb has a buttery, mouth-watering flavor. These are easy cheddar biscuits and better for keto sweet treats. You can earn a good sense for your party by adding this keto dessert to your menu list.
A Healthy and fresh party will make people joyful and interested. These low-carb biscuits are the copy of the red lobsters because of their tastes and health measures.
Keto Creamy Blackberry Fool
This healthy and easy-to-cook keto dessert has a sweet and delightful taste. It is creamy, light, and delicious that brings refreshment. No-bake keto dessert with its refreshment capability will make your day.
Its creamy, fluffy, and buttery texture makes it melt in the mouth. The fool word represents the creamy and fluffy texture in the dessert. Serve your dessert of this keto blackberry with the whipped cream to make it healthy and refreshing.
Keto Apple Crumble
Are you missing apples in your meal plan and want to get their taste? Don't worry, we are here to give you a pitch of keto-friendly dessert with the apple taste.
This crispy and sweet texture will make your dessert delicious. It's one of the keto desserts that taste good. However, this Mexican veggie can be your party dessert. This low-carb dessert is rich in dietary fibers, vitamins, and some essentials.
Keto Peanut Butter Fat Bombs
Fat bombs are easy to make and contain low-carbs that make them healthier and prevent sugar spikes in the body. It is a high fat-base dessert, like peanut butter and coconut oil.
It resembles sugar-free chocolate due to its ingredients. The fat-based ingredients give it a rich, creamy texture that plays a role as a mouth-watering dessert.
Keto Almendrados Dessert Recipe
These cookies are also known as "Spanish Almond Cookies" due to the almonds used in the dessert. Keto Almendrados are easy to make and very light and delightful in taste. This keto-friendly dessert recipe contains low-carbs that make it healthy.
Its healthy and delightful nature attracts people as it has no butter. These have almonds as a main ingredient. Crunchy from the outside and soft from the inside that makes it delicious and joyful. It is also flourless, which makes it healthier.
Keto Cream Cheese Cookies
The keto cream cheese cookies are soft, buttery, and chewy with low carbs! These are so delicious that one will be impressed by them.
These simple and easy cookies are made up of 5 simple ingredients. There is no sugar, flour, and grains, and the texture is soft in the middle and crispy from the edges. The most surprising thing is that it has a low-carb feature that includes it in healthy keto desserts.
Almond, Coconut, and Blueberry Cake
This cake has a soft texture and taste due to almond, coconut, and blueberry. This combination makes the cake very delicious. It is a perfect serving for tea as a dessert.
It is a simple and super easy recipe that you would love to have. Just mix, wet, and stir the ingredients. However, it is a buttery, soft, and delicious cake. This keto cake is healthy, and you would like it to have a crispy outer covering due to almonds and coconut.
Keto Cheesecake Brownies
Keto brownies with cheesecake swirl makes a low-carb dessert sound stunning? Yes, it is a low-carb cake besides the use of cheesecake. Thus, it is a low-carb brownie recipe that is delicious and suitable for a keto diet.
These are sweet low-carb keto brownies that are chocolatey, fudgy, and chewy in taste. The flavor in these is almond, and it is the only flavor that is used in these brownies.
Coconut Panna Cotta and Strawberry Jam
Do you want your Panna Cotta keto-friendly or low-carb? Then, you have to read this description about Panna Cotta. It has a very soft and fluffy texture that makes it a mouth-watering dessert.
It is soft enough to melt in the mouth. Its fluffy nature attracts others, and the small berry jam on top of it adds more interest.
The presentation of Panna Cotta also makes it more attractive. It is very delightful, healthy, and delicate with coconut dispensation. It is made from dairy cream and is still healthy for a keto diet.
Keto Mocha Mousse
It has a texture of velvety cloud that is rich in chocolate and coffee but still, it is a low-carb or keto dessert. You will find it delicious and soft with a good taste. It melts to your mouth and gives a joyful moment to you.
As mousse recipes are not easy to prepare at home, they can be cooked within 20 minutes at home. If you don't like coffee, you will find it as a coffee-free mousse because the taste is precious and it will not bother you. It gives a mouth-watering taste.
Healthy Sugar-Free Keto Blueberry Ice Cream
It is a delicious sweet treat to give a cool treat in the summer. The ice cream is a low-carb creamy ice cream that is suitable for your keto diet.
Keto ice cream looks so amazing to have low-carb ice cream in the summer. This keto blueberry ice cream is suitable for the ketogenic diet as it has only 4g of net carbs per serving.
Keto Eggnog Pie
This recipe is rich in eggnog flavor, and it is in the form of custard. A delicious keto dessert with eggnog flavor! And it takes only 5 ingredients to make this low-carb recipe.
It is delicious, light, and filled with nutmeg to make your bite a little bit crunchy. It is a holiday dessert with a unique flavor and low-carb feature. Its taste is fresh and delicious, suitable for the ketogenic diet.
Instant Pot Keto Custard
Instant pot keto Custard is easy to make, and its taste is amazing! Now the question is, can it be a low-carb dessert? The answer is yes.
The low-carb version of the recipe tastes as good as the original one. It is a delicious treat for people who are on a ketogenic diet. Healthy and delicious instant pot custard! The carb value depends on the flavor that you are using in your recipe.
Keto Blueberry Muffins
The keto blueberry muffins recipe is not only delicious but is also super easy to make! However, it will take 30 minutes to be done and comes with incredible taste.
The taste is just like the original one but with low carbs. These keto muffins are best for breakfast and are light with a fluffy texture.
In these muffins, almond flour is used instead of wheat flour and this is the thing that makes it a low-carb dessert. You can use it as a treat menu for your loved ones, especially for keto diet lovers.
Almond Flour Scones Recipe
Almond flour scones are incredibly delicious and super easy to make! These scones are keto-friendly as well as dairy-free. It is a gluten-free seven ingredients recipe.
These are high in protein and low in sugar that makes them healthy and delicious too. These are easy to make and have a sweet taste. Instead of its keto nature, it has an impressive taste.
Keto Chocolate Truffles
Keto chocolate truffles recipe is easy, and these truffles are delicious or have a good taste. Chocolate truffles are a low-carb dessert recipe with two ingredients that make it creamy and delicious.
It is a chocolate dessert recipe having low-carb that is suitable for the ketogenic diet. It takes 20 minutes to prepare, and then you can taste its chocolatey nature.
Keto Lemon Pound Cake
Keto lemon pound cake is delicious and moist. Make this cake a part of your party because your guests will love every bite of it.
Lemon zest adds more flavor to the cake! It is an easy low-carb pound recipe with a delicious taste!
Keto Almond Kheer
Kheer is a dessert of rice and sugar, but it is not preferred to a keto diet. However, to avoid carbs, this recipe uses a sweetener that fits a keto diet.
This recipe also uses whipping cream and almond milk to reduce more carbohydrates. It is a delicious Asian recipe that is now keto-friendly.
Keto Shortbread Dessert
These keto shortbread cookies are made with just 5 ingredients. There is no need for sugar. However, these are rich, buttery, and delicious. These are so tasty that you can put these in your party to amuse your guests.
They will enjoy this buttery dessert and will be impressed by its keto nature. These shortbreads are not easy to prepare, but they look beautiful.
Keto Peanut Butter Mousse
This recipe is super easy to make. It takes 5 minutes and 4 ingredients.
Keto peanut butter is a creamy, fluffy, and delicious mousse dessert that can be made within a few minutes. There is no flour in this recipe that makes it healthy. As there is no flour, you can make it a low-carb dessert by using a sweetener.
Keto Coconut Macaroons
These Macaroons are made up of 3 ingredients. It is golden and crispy from the outside while soft and chewy from the inside!
These are made up of coconut, egg whites, and a sweetener to make them keto-friendly. These sugar-free macaroons are not only delicious but also easy to make.
These are just like small cookies and are healthy. It is diet-free, sugar-free, and with low calories in it.
Keto Vanilla Mug Cakes
This keto vanilla mug cake will satisfy you for your keto diet and for the taste too! It is a four minutes recipe with low-carbs.
You can use it for your party menu as it has a delicious taste. It is a fluffy, tasty, and keto-friendly dessert that your guests will love.
Save room for dessert and you'll have zero regrets thanks to these keto-friendly desserts to share with friends and family!
Camellia Jones is an editor at Twigs Cafe. She rounds up all the delicious food from the web for specific diets. She likes to spend the rest of her time with her children.