25 Christmas Eve Dinner Ideas to Add Wonder and Delight to Your Holidays
Everyone tends to focus on Christmas dinner. But what about the night before? Christmas Eve dinner is a special time too. It's when we gather around and embrace the magic before Santa comes.
Even without children running underfoot, Christmas Eve dinner is a special time for all ages. If you're tired of the usual suspects, try these 25 Christmas Eve dinner ideas that will make this year the most special one of all!
Cioppino
Warm, comforting, and perfect for bringing everyone to the table, Cioppino is a traditional Italian dish that only looks complex. Clams, mussels, shrimp, and fish unite in this rich brothy soup, one that simmers to bliss on your stovetop, though you can surely adapt it to go in your slow cooker. Either way, you'll have plenty of time to schmooze with the ones you love.
Veggie Béchamel Lasagna
Old-fashioned lasagna is a nice choice for Christmas Eve dinner. But to really shake things up, try making it with a bechamel sauce instead of cheese.
With a bounty of eggplant, cauliflower, and sweet potato, this pretty dish plates up beautifully and will even satisfy those that usually choose meat for a main.
Lobster Fra Diavolo
Few things are more luxurious than a lobster dinner. This succulent ingredient becomes even more dazzling when made in a fra Diavolo sauce with cognac and clam juice, making it anything but the ordinary pasta dinner you'd serve on a regular night. Plus, it's such a simple way to impress while allowing you enough time to relax and enjoy the evening.
Whole Roasted Branzino
Go for something that looks rustic yet tastes extraordinary. With a whole roasted branzino atop a base of fennel and onions with chopped thyme to bring the flavors together, it's a masterpiece for seafood lovers. Believe it or not, it's one of the easiest ways to dazzle during that Christmas Eve dinner!
Baked Spinach Rice
Whether you're looking for a new side to try or want to have a vegetarian option to serve for meatless guests, this baked spinach rice truly delivers. It gets golden and crispy on the edges while the center is tender with a stunning creaminess. Even the kids will get into this divine dish, so much so that you might be incorporating it into your regular weekly rotation from now on.
Garlic Rosemary Prime Rib Roast
If you'd love the indulgence of a steakhouse dinner without dining out, this garlic rosemary prime rib is one of the most spectacular ways to go all out for Christmas Eve dinner.
With a homemade horseradish sauce that complements the beef so beautifully, you have every box checked for a flavorful meal that no one will ever forget.
Mojo Pork with Black Beans
When your Christmas Eve dinners are about trying something new, or you're just tired of the same rotation of holiday dishes that you tend to trot out from Thanksgiving to New Year's, it's time to try mojo pork.
This Cuban citrus marinade of lemon, lime, and orange contrasts with pungent onion and spicy jalapeno plus a bounty of herbs, spices, and garlic to slow-cook pork shoulder into mouth-melting tenderness.
The recipe includes how to make Cuban-style black beans too, but do yourself a favor and make fresh guacamole to go with it to truly liven up your fiesta!
Lasagna Bolognese
How about another take on lasagna? Lasagna certainly is a popular Christmas Eve dinner idea, and while there's nothing wrong with the original, it's even more fun to try a different take on it.
This recipe shows you how to make even pasta from scratch (though you can cheat and use ready-made pasta to save time). The combination of the layers of Bolognese sauce and fontina bechamel to top it all off is nothing short of sensational. Crusty garlic bread is a match made in heaven for this delightful main!
Prosciutto Wrapped Asparagus
Perhaps it is simplistic, but a side like this works so well with Christmas Eve dinner dishes, adding elegance and veggie all in one.
You can serve it as an appetizer to keep everyone busy while sipping cocktails, or bring it out to the table with your main dish. All it takes is prosciutto and asparagus to make it happen!
Maple Pecan Baked Brie
Baked brie is often found on Christmas Eve dinner tables, usually as an appetizer with plenty of wine and cocktails. Instead of smothering it with tart and sweet cranberries like everyone else does though, try it with real maple syrup, brown sugar, and pecans and you'll wonder where this has been your whole life.
It goes great with slices of baguette and apple slices for those watching their carbs. Don't forget a nice, crisp white wine to put on the table with it. You won't need a bread basket when you've got this on the table!
Lasagna Roll-Ups
Does your Christmas Eve dinner include lots of kids? Perhaps taking a quick shortcut with lasagna and making roll-ups is the answer for you.
It looks elegant, kids will love it, and it's a lot quicker to put together, all with pantry staples you likely have on hand. You can also serve it as the starter course for an Italian-themed dinner. However you choose to serve it, everyone will ask for seconds.
Salsa Verde Chicken Pozole
If you'd prefer to theme your Christmas Eve dinner with the colors of Christmas, why not go for something green? Brimming with textures and flavors at every turn, this salsa verde chicken pozole is definitely something different.
It goes in your slow cooker, freeing you to do as you please (like hiding in your bedroom frantically wrapping presents from Santa while draining all the rosé). The tomatillos and peppers add plenty of feisty spices to your meal. When it's ready, the toppings of fresh-baked tortilla strips, avocado, cotija cheese, and roasted pumpkin seeds are the perfect way to garnish it. You can even set it out on your buffet table and let everyone top it as they see fit.
General Tso's Chicken
For some, the tradition of Christmas Eve dinner is to order Chinese takeout. But why wait (and wait and wait and wait) when you can make your favorite dish yourself in less time?
This slow cooker version of General Tso's chicken is quite possibly even better than your favorite takeout place. Since it cooks on its own, that leaves you really free to have a happy holiday.
Chinese BBQ Pork
Want more Chinese food for your Christmas Eve dinner? Then turn to the always-amazing char siu, better known as Chinese BBQ pork. This dish is an absolute winner for dinner, one that comes out even better than you'll find at any Cantonese-style Chinese restaurant.
Beer Cheese Fondue
Cold outside? Try an interactive dinner that will really warm you up. This gooey fondue gets a hint of bitterness from beer for a Christmas Eve dinner that lets guests dunk as they dine.
Goat Cheese Pasta with Spinach and Artichokes
Even pasta can make the perfect partner for your Christmas Eve dinner. Who says you have to spend hours making your meal, especially when Christmas dinner will keep you in the kitchen all day?
This heavenly pasta dish comes to life with goat cheese, rendering it instantly creamy. With spinach and artichokes, it has an indulgent flavor that everyone will adore.
Sausage Stuffed Mushrooms
You can start off Christmas Eve dinner with sausage stuffed mushrooms or serve them right along with your main. Easy to make, bake, and enjoy, they go so beautifully with roasted meats or any Italian meal.
Vegan Wellington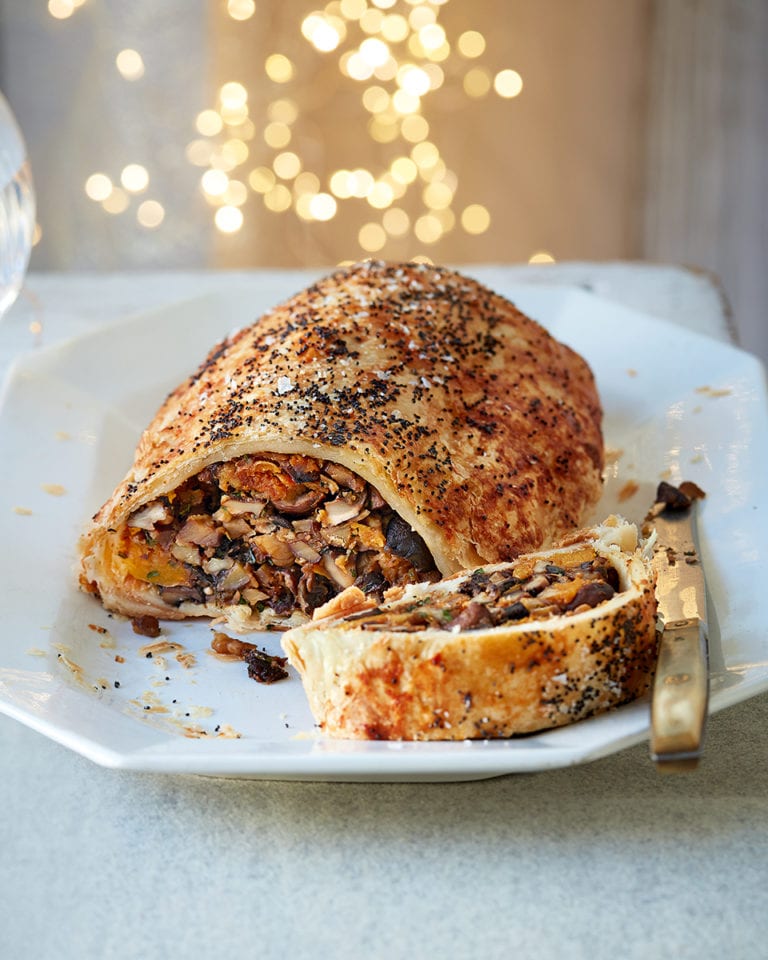 Not into meat or having a meatless guest join you? Try this vegan wellington. It uses miso mushrooms, butternut squash, and chestnuts that all roast together.
The filling is made with prunes, madeira, and breadcrumbs which are all put together in a vegan puff pastry to recreate the iconic showstopper beef wellington without any animal products in the most delicious of ways.
Pesto Salmon
Sometimes, the best dishes to serve for Christmas Eve dinner are also the simplest. While pesto salmon is an easy dish to put together, the bright green hue of the pesto makes it fit the holidays.
Go for fresh salmon baked to a tender texture with the garlicky and savory flavors of pesto to really bring out the best of this fish.
Pepper Crusted Beef Tenderloin
Beef tenderloin looks so extravagant. And it tastes that way too. Yet, it's so incredibly simple to make that you won't be running yourself ragged on Christmas Eve.
Let your oven roast it to perfection while the peppercorn and parmesan crust brings out the scrumptiousness of this cut of meat.
Slow Cooker Mississippi Pot Roast
What better way is there to warm up on Christmas Eve and make dinner easier than ever than to put a pot roast in the slow cooker? It's a win-win for everyone without compromising taste.
It gets a Mississippi flavor with pepperoncini, ranch, and au jus tossed in together. While it does sound unusual, the aroma will have you salivating well before it's time to serve dinner. And once you taste it, you'll be making this exciting twist on pot roast a lot more often.
Broiled Lobster Tails
Christmas Eve dinner doesn't have to be chaotic. In fact, some people prefer a simpler approach. With fresh broiled lobster tail, you'll have luxury, elegance, and simplicity all in one. Plus, who can resist the taste of fresh lobster tail?
Raclette
If you haven't yet heard of raclette, this might just be your new favorite Christmas Eve dinner tradition. It's a Swiss meal consisting of melting raclette cheese and serving it with an array of accoutrements like salami, gherkins, prosciutto, boiled potatoes, crusty bread, or even shrimp.
It's like fondue except it gets melted on a raclette grill and poured over your accompanying foods.
Slow Braised Pork Roast with Spiced Pear and Apple Sauce
All those warm and soothing flavors of the holiday season come together in this dish. Pork roast is often overlooked for Christmas Eve dinner, but it makes a beautiful and indulgent meal, braised first and then roasted along with apples, pear cider, and warming herbs and spices. The juicy meat is worth the wait!
Rosemary & Garlic Oven Roasted Rack of Lamb
And finally, we'll end with one of the most over-the-top Christmas Eve dinners you can serve for that purely elegant meal. A roasted rack of lamb is surely indulgent, and while it looks every bit the part, your guests will wonder why you're not more frazzled. That's because it's a no-fuss recipe that renders the meat juicy and tender with the aromatic flavors of rosemary and garlic infused right in for a holiday meal that tops them all.
Lori Bogedin is a health and wellness writer and editor of TwigsCafe.com. She is in the restaurant business since 1999. In 2016 she was named one of the "Top Women in Business" by Northeastern Pennsylvania Business Journal.